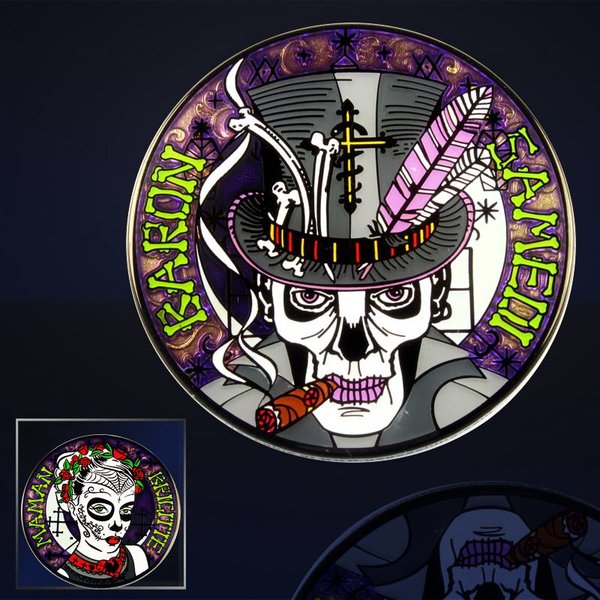 Fête Ghede

It may appear to be a Halloween coin but the Geocoin Collectors Club made it their November design on purpose.

In Haiti, the Guédé (also spelled Gede or Ghede, pronounced [ɡede] in Haitian Creole) are the family of Loa that embody the powers of death and fertility. Guédé spirits include Ghede Doubye, Ghede Linto, Ghede Loraj, Guédé Nibo and Guédé Ti Malis. All are known for the drum rhythm and dance called the "banda". In possession, they will drink or rub themselves with a mixture of clairin (raw rum) and twenty-one habanero or goat peppers. Fête Ghede is celebrated on 2 November, All Souls' Day ("Festival of the Dead"). Boons granted by the Ghede not repaid by this date will be avenged afterwards.
Baron Samedi is usually depicted with a top hat, black tail coat, dark glasses, and cotton plugs in the nostrils, as if to resemble a corpse dressed and prepared for burial in the Haitian style. He has a white, frequently skull-like face (or actually has a skull for a face), and speaks in a nasally voice. The former President for Life of Haiti, François Duvalier, modeled his cult of personality on Baron Samedi; he was often seen speaking in a deep nasal tone and wearing dark glasses.
He is noted for disruption, obscenity, debauchery, and having a particular fondness for tobacco and rum. Additionally, he is the loa of resurrection, and in the latter capacity he is often called upon for healing by those near or approaching death, as it is the only Baron who can accept an individual into the realm of the dead.
Baron Samedi spends most of his time in the invisible realm of vodou spirits. He is notorious for his outrageous behavior, swearing continuously and making filthy jokes to the other spirits. He is married to another powerful spirit known as Maman Brigitte, but often chases after mortal women. He loves smoking and drinking and is rarely seen without a cigar in his mouth or a glass of rum in his bony fingers. Baron Samedi can usually be found at the crossroads between the worlds of the living and the dead. When someone dies, he digs their grave and greets their soul after they have been buried, leading them to the underworld.
Maman Brigitte (English: Mother Brigitte) also written Grann Brigitte, Manman, Manman Brigit, Manman Brijit is a death loa and the wife of Baron Samedi in Vodou. She drinks rum infused with hot peppers and is symbolized by a black rooster. Like Baron and the Ghede, she uses obscenities.
Brigitte is also one of the only white Voodoo gods, due to having origins in Ireland, and not Africa or Haiti like other loa. She is described having red-gold hair and emerald green eyes.
She protects gravestones in cemeteries if they are properly marked with a cross.
A New World loa, Maman Brigitte is syncretized with various saints, including
Saint
Brigid and Mary Magdalene
Size: 44.92mm
Thickness: 3.45mm
Weight: 39g
Trackable? Yes
Own Icon? Yes
This coin comes with a matching PathTag.
Reviews