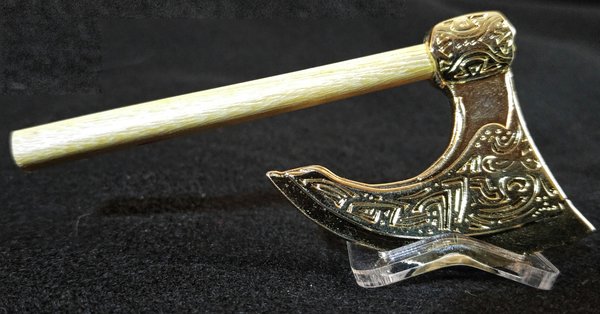 The Great Ax Geocoin
The Great Ax Geocoin, Viking history in your hands.
This is the wonderfully detailed Great Ax geocoin and is exclusive to Geocache Land in the UK.

We have three versions available, Antique Gold, Antique Silver and the very special world exclusive Extra Limited Edition Shiney Gold.Sold Out

Designed by Tevjen Designs on actual Viking axes that have been discovered over the years this coin is simply stunning in its detail. With a real wood handle made in scale with the axe-head this coin stands out from the rest.

The XLE Shiney Gold edition was specially commissioned for Geocache Land and can only be purchased from us. With just 25 of this version being made it will be a jewel amoungst your collection.

We also have limited stock of the Antique Gold and Silver versions, and this is the first time this coin has been available to buy in the UK.

The coin measurements are:
Axe head; 50.84mm x 41.53mm and 8.65mm thick
Axe handle; 84mm long (due to the manufacturing process this length may vary by upto +1/-1mm from coin to coin)
Trackable: Yes
Own Icon: Yes
Don't forget: all orders qualify for a free gift. Remember to add yours to your order!
Reviews