Stripy, the Moonworm Geocoin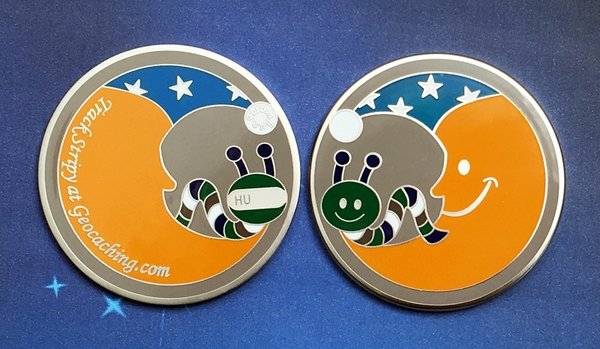 Stripy, the Moonworm Geocoin
Stripy, the Moonworm Geocoin was designed by Hungarian geocacher Strombus
When asked about the geocoin Strombus stated: "The inspiration for this coin came from Groundspeak's "historic" announcement on April 1st about space geocaches and from a drawing I saw in a waiting room.
When caching in space we surely will meet new creatures. Stripy may be one of them.
Each version is named after a moon of the Saturn. Saturn has 62 moons, but only 53 are named.
Don't worry, I don't intend to have that many coin versions, only 6!"
This is the Tarqeq edition and is limited to just 53 coins. It is the only edition available to the general public and is exclusive to Geocache Land. Can you find the hidden flying saucer?

Finished in Satin Nickel with grey, orange, blue, green, white and brown hard enamels, this fun coin is a must for any collection.

Size: Ø 44.5 mm
Thickness: 3.5 mm
Weight: 39 g
Prefix: HU
Trackable at geocaching.com

Don't forget: all orders qualify for a free gift. Remember to add yours to your order!
Reviews