Scotty Duck Geocoin (Choice of finish)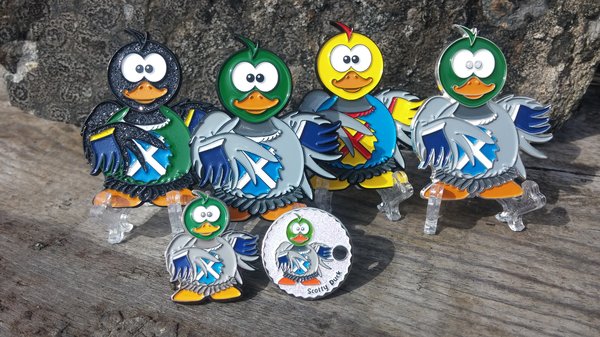 Scotty Duck Geocoin (Choice of finish)
Back in the mists of time* in a land that time had forgot** appeared a new hero. Sent to us to rescue lost geocachers from endless trails amoung the mountains, small enough to reach even the hardest nano, brave enough to fly to the top of the tallest tree cache, clever enough to solve the hardest puzzle cache, a new breed of hero is born................

That hero is

Scotty Duck

!!
Few have seen Scotty Duck but where ever and when ever a geocacher is in need Scotty Duck can be found***. But fear not, you can now own your very own Scotty Duck to love and cherish as if he was your very own. Geocache Land are very proud to present the Scotty Duck Geocoins!!

Scotty Duck is available in four versions:
The Standard edition: Black Nickel (150 produced)

The Limited Edition: Shiney Silver (75 produced)

The Extra Limited Mexican Wrestler Edition: Black Nickel (40 produced)

The Artists Black Glitter Edition: Black Nickel, (35 produced and only available in the Collectors set)

With the exception of the Artists Edition all coins are available individually.
The Collectors set consists of one of each version plus the Scotty Duck PathTag and Extagz Mini editions.

Size: 50mm tall
Thickness: 3mm
Trackable: Yes
Own Icon: Yes
* Last Thursday
** Scotland
*** As long as they are sat in front of the TV with a bowl of natchos
Don't forget: all orders qualify for a free gift. Remember to add yours to your order!
Reviews