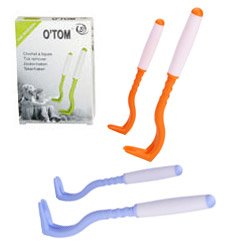 O'TOM Tick Removers
NEW! with Silicone Handle for a better grip! Colours may vary.
O'Tom Tick Twister the best and safest way to remove ticks without leaving the mouthparts of the tick planted in the skin- without the use of chemicals.

Quick and painless without squeezing the tick, thus reducing the risk of infection.

Two sizes supplied in each pack (one for the adult tick, the other for larvae and nymph ticks).


It doesn't leave the tick's rostrum in the skin
It doesn't squeeze the tick's abdomen
It removes ticks of any size
It removes ticks from animals

and

people
It doesn't need any chemical products (alcohol, ether,...)
It enables a quick and painless tick removal
It is unbreakable, hardwearing and indefinitely reusable

Instructions for use:


| | | |
| --- | --- | --- |
| 1. Choose the most suitable hook according to the size of the tick. | 2. Engage the hook by approaching the tick from the side until it is held. | 3. Lift the hook very lightly and turn it. The tick detaches by itself after 2 or 3 rotations. |
| | | |
Reviews