Norwegian Viking Geocoin (2 versions)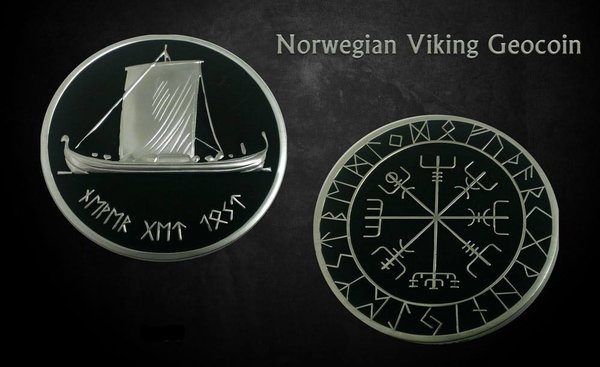 Norwegian Viking Geocoin (2 versions)
We have two versions of this wonderful coin avilable; Satin Gold and Satin Silver. Both are finished with black enamel.
Norwegian Vikings Geocoin is a big geocoin and the first in a series from Thomas A.Evjen with a Vikings theme. Thomas is from Norway and very proud of his Viking ancestry. He spent 6 months designing this coin and the time and effort put in clearly shows. Geocache Land are very honoured to be chosen as the only UK geocaching store to stock Thomas' coins.

This is the first coin in a series, there will also be 4 smaller coins with Viking motives and the very special "Viking Ax" 3D geocoin in the series.
Facts about Coin
Size: 60 mm Diameter
Thickness: 6mm
Front: Viking Ship, Elder Futhark text that reads "Never Get Lost"
Rear: The character in the middle was used by the Vikings and means "Never Get lost."* The characters around is runic alphabet known as the Elder Futhark.
Iconcode at geocaching.com: 7665
Trackable at geocaching.com with own icon
The text "never get lost" it is not only for Vikings to appreciate as it should fit well for geocachers too.
Reviews