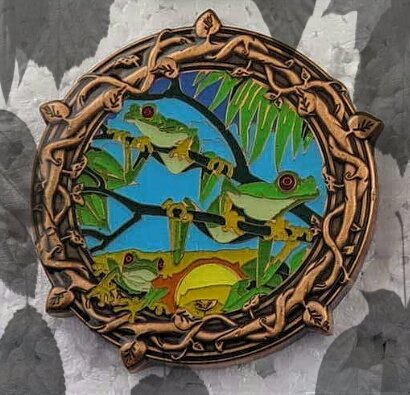 Leaping Into Caching
This exquisite 3D coin is the Leaping Into Caching Geocoin designed by Jon-Paul Barr from an original idea by geocacher LongJimSilver.
The coin features three tree frogs on the front and a water lily flower on the back with dragonflies. The detail in the enamelling is outstanding. When the samples were first seen at Geocoinfest Europe 2015 many people believed this was a printed picture. That is how detailed the artwork is on this coin!
Every geocoin collector should have at least one version of Leaping into Caching in their collection.
There are 3 finishes available from Geocache Land:
·

Regular Edition - Antique Silver (A04) 150 made

·

Limited Edition - Satin Gold (A02) 75 made

·

Extra Limited UK Edition - Antique Copper (A06) 50 made (exclusive to Geocache Land)
It measures in at 45mm diameter, 5mm thickness and a whopping 50g in weight! It is fully trackable and has its own icon on geocaching.com
Don't forget: all orders qualify for a free gift. Remember to add yours to your order!
Reviews