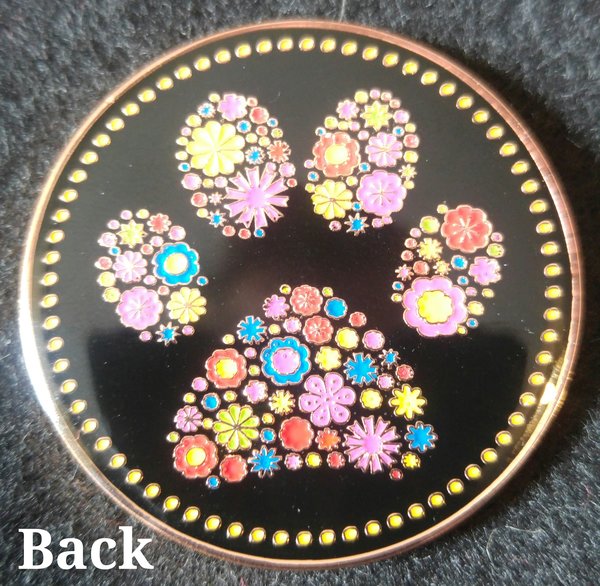 Jenson The Geohound
Our Facebook followers may remember the story of Jenson the Labrador who found a missing geocache while out with his owner for a walk. Not knowing what a geocache was Jensons owner contacted Geocache Land and we were able to put them in contact with the Geocaching Association of Great Britain (G.A.G.B). In turn, the G.A.G.B. were able to find exactly which geocache it was that Jenson had found and contact the 'cache Owner (C.O.).

It turned out that Jenson had found a 'cache that had been missing for some time and with in days the geocache was back in place and ready to be found.
To celebrate the safe return of the geocache, we decided to make a commemorative geocoin in Jenson's honour.
Featuring a multi coloured floral paw pattern on the back and Jenson's image on the front this geocoin is available in four versions, with a fifth XLE version being available exclusively in a set of five coins:
RE: Copper finish, dark green background and blue collar -£9
LE 1: Copper finish, Light green background and red collar - £10
LE 2: Nickel finish, no background and red collar - £10
SE: Copper finish, no background and red collar - £11
XLE: Gold metal, green background, golden dog (only available in the set). Set - £50
SALE!! ALL VERSIONS JUST £9 EACH AND THE SET ONLY £40
To support the work that the G.A.G.B. do Geocache Land will donate £1 from the sale of each Jenson The Geohound geocoin to G.A.G.B.
Size: 40mm
Thickness: 4.25mm
Weight: 31g
Trackable? Yes
Own Icon? Yes


This geocoin was produced by Geocoins R Us, part of the Geocache Land family.
Reviews