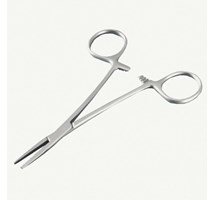 Forceps
Top quality Halsted Mosquito forceps.

Ideal for grabbing tricky logsheets or adding that little extra reach to your arm. Ratchet handles ensure a firm grip even if you loose yours.

Also idea for first aid kits
125mm long
Weight for shipping: 26g
Please note: Packaging states for single use. This is for medical use (repeated use for surgical removal of log sheets is allowed).

Reviews