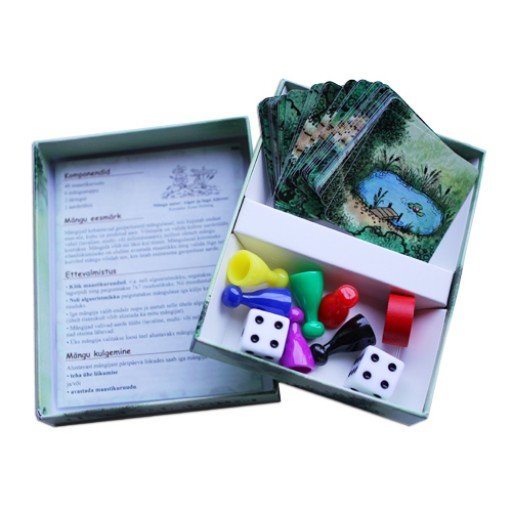 First To Find Geocaching Game
"My phone alerts me — a new geocache has been published. A glance at the map makes me smile: I know this piece of woodland! Here I grab my rubber boots and a towel, turn on the GPS device, and run to get the car. A cup of tea is left behind on the table, half filled with tea that is still hot."

Are you looking for something to do when you are taking a break from geocaching? How about playing a box game about geocaching!


FTF - First to Find is a geocaching-themed card game, which lets the players experience all the same kind of emotions as they would get from playing in the open air. One can choose between various types of geocaches, and winner is the lucky one who gets to the cache first, of course.
Very easy to learn and every game is different. You can choose between finding a traditional, multi-cache, or mystery cache.

Playing time is upto 30 minutes per game
Age range - 8 to 108
Number of players - 2 to 6
Addictiveness level - Very High
Quotes from people who have played First To Find:
"Great game and really easy to learn!" - M.L (10 years)
"I would play the game any time again..it is never the same and and should it be that." - K.A. (20ish years)
"Excellent! I love this game" - S.L. (13 years)
"A great family game and far better than the other geocaching games on the market" - I.L. (40ish years)
"The perfect game for in between or just a nice board game Evening..like we had after a nice dinner" - K.A. (still 20ish years)
"I love this game, it is so much fun!" - J.B (40ish years)
"My grand kids introduced me to this game. I absolutely love it! Anyone of any age can play and it is so easy to learn" M.S (82 years)

Don't forget: all orders qualify for a free gift. Remember to add yours to your order!
Reviews