Celtic Sword Geocoin: Antique Silver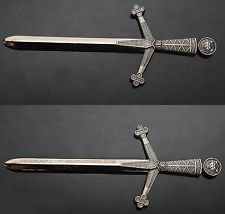 Celtic Sword Geocoin: Antique Silver
These are the new Celtic Sword coins - Antique Silver (115 made including 50 to go with the shields)

The 3D Sword coin measures 3.5 inches long, and is around 3mm thick. It is made of stamped copper, to achieve the Antique/Shiny finish.

It is trackable on geocaching.com and has a custom icon (shared with the shield coin). It will come ins a small plastic bag with activation retrieval information.
Reviews